Answers to Almost Any
Witchcraft Question
("Who Else Wants Access To A Secret Resource That
Contains 1000's of Witchcraft and Wicca Secrets?")
Dear Friend
If you'd like to be able to reveal amazing secrets about Witchcraft while being the envy of those who know you, then this will be one of the most important messages you'll read.
Now you can get answers to practically any Witchcraft or Wiccan question you have in seconds.
"What is Witchcraft?" you ask when first studying the Craft
"How do I become a Witch?" you ask a friend or post a question on the Internet
"How do I acquire magic power?" you ask when you want to progress
"What spells can I use for.........?" you ask when the time arises
"How to become Immortal?" you ask your coven
"What is a Lamia?" you ask for the first time
"Why was Lucifer wrongly cast out of Heaven and what sacrifices please him?"
Introducing "The Secrets of Witchcraft - 1001 Witchcraft Answers"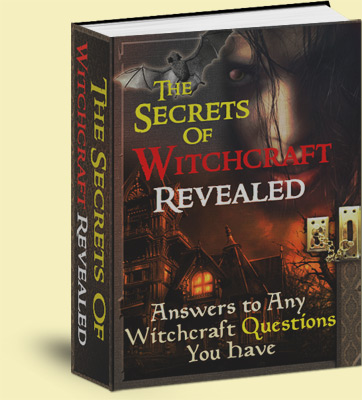 Here for the first time is specific information on almost every topic associated with Witchcraft, Wicca and all that is magic - both black and white.
For solitary or group use it includes Rituals, Over 500 Spells, Exercises for developing psychic talents, Information on all 'sects' of the craft including sections about Gods, Beliefs, Dreams, Meditation, Divination, Herbal Lore, Healing, Ritual Clothing and Much, much more..........
It doesn't matter if you're new to the Craft or have been practising for years, with this single resource you'll have answers right at your finger tips anytime you need them.
Let's say you want to know about the 'Salem Witch Hunts'..........
No problem
All you have to do is type in "Salem" into a simple search box and HEY PRESTO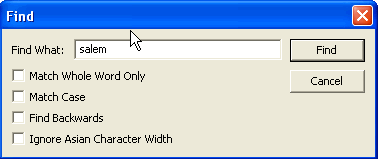 Out comes every question about the Salem Witch hunts answered for you..........

Easy right?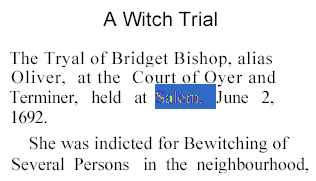 That's all there is to it!
Even if you're new to the Craft you'll amaze, astound and even 'frighten and intimidate' your fellow Witches with your powerful knowledge.
That's the power of having "The Secrets Of Witchcraft" on your computer. You see, instead of compiling everything into a thick printed book that'll probably just gather dust on your shelf, we've put everything in an electronic reference work you can quickly and easily search for exactly what you need.
Anytime you've got a Witchcraft question - this guide has the answer.
What's more, you can download this resource instantly and it works on both Mac and PC computers. You'll have answers to almost any Witchcraft question in less than 3 minutes. There's no waiting around for the postman to come with a box or wasting time driving to a store.
If you'd like to put this very unique resource - The Secrets of Witchcraft - to use now click the order button below or if you'd like to learn more keep reading........
Grab your copy for just $19.95
Now anyone can become an expert on Witchcraft - it's easy!

"I was sceptical when I bought this resource........ all I can say is WOW! It covers everything and more about witchcraft."
Traver O'Neal - Chester, UK
"This is a fascinating resource that I find myself going back to nearly everyday and I've been a witch for over 12 years."
Charlotte, NY
"I'm new to witchcraft and was afraid, and dare I say embarrassed, to ask others for fear of ridicule. You have given me the confidence to explore the craft further."
Bobbie Pearson - Dulwich

Start off with answers to the most important parts of the Craft like, the origins of witchcraft, mediaeval definitions of witchcraft, how to acquire magic power, the power of sorcery. Then you get specific witchcraft questions answered.
Here Are Just a Few of the 1001 Questions You Can Have Answers To Instantly Inside This Amazing Resource:
Q) What are the Miracles of Witchcraft?
Q) Understand the power of spirits.
Q) How to perform or guard against exorcism
Q) When to use Talismans to prevent entrance of Demons into a house
Q) How to perform an Assyrian spell
Q) Discover the use and power of Roman charms
Q) What is a Witches brew?
Q) Spell to separate Husband and Wife
Q) What was King Solomon's power of wind?
Q) When should you use blood in a magic rite?
Q) How do you use sacrifices?
Q) What spell should you use to summon the wind?
Q) What are the functions of demons?
Q) How to have power over demons?
Q) How to summon demons?
Q) What are the different names of Satan?
Q) Where to discover the weaknesses of the devil
Q) How do you celebrate black mass?
Q) Who was Gulfora Queen of the Sabbat?
Q) How to have conversations with spirits?
Q) What was the prevalence of Witchcraft in Bible times?
Q) Where does the cat appear in Witchcraft?
Q) What are the powers of Witches?
That's just the tip of the iceberg because you'll also get answers to these important questions:
Q) What is the transvection of witches?
Q) When to wary of other witches?
Q) What is the 'circle of sacrifice?
Q) How to transport Witches?
Q) What tests are there for Witchcraft?
Q) When was the Devil a cat?
Q) What is the power of a Magician?
Q) The truth behind witch trials.
Q) What is the link between Witches and Vampires?
Q) When did Lycanthropy appear?
Q) How do you summon spirits?
Q) What are the magic properties of the Raven?
Grab your copy for just $19.95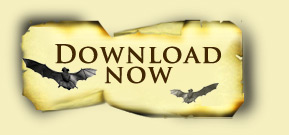 Over 200 References To The Who's
Who in Witchcraft
| | | |
| --- | --- | --- |
| - Abaris | - Isobel Grierson | - Mary the Jewess |
| - Adamantius | - Hecate | - Meroe |
| - Epimedies | - Idris | - Pythia |
| - John Fian | - Lotpes | - Sons of Cham |
| - Gnostics | - Medea | - Plus over 200 more...... |
And this is still just a tiny fraction of the information inside the "Secrets of Witchcraft". At a glance you'll know every secret in the book, including:
The punishments for sorcery and Witchcraft down through the ages
King Nebuchadnezzer's dreams and what they meant
Over 500 spells for nearly every need or occasion
Biblical diviners
Memory training
Witchcraft names invoked in Roman necromany
How to know the future
And much, much more..................
Want a FREE Sneak Preview?
Just simply enter your email address in the field below and you'll
get several of the most important Witchcraft questions answered from the
Secrets of Witchcraft. It's totally free but only for a limited time.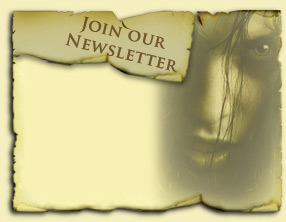 You'll receive your first secret questions and answers in a matter of seconds.
And then, every couple of days for the next several days, we'll send you new
questions and answers you can use to develop your Witchcraft knowledge and
power. Plus, you'll also get additional tips and special, little known, resources.
Your information will not be sold or disclosed to anyone.
We respect your privacy.
At Last, Here's The Most Comprehensive Reference
Resource For Understanding Witchcraft
As you can see there's so much useful knowledge in here-- you'll be referencing this work over and over again every year.
Just count up the value here. If you were going to try and find the same information elsewhere it would take you several volumes of different books and you still probably wouldn't have everything here. That would set you back hundreds and the books would just gather dust.
However, this entire resource guide, available for you day and night, is only $19.95 (This price will go up after our introductory Internet offer is over.)
And the best part is it's available to you right now as an instant download! As soon as you place your order through our totally secure server you'll have immediate access without delay. (But don't worry, downloading the Secrets Of Witchcraft is simple. Even if you're a bit of a computer novice you'll have no problem......it's just 2 simple steps and we'll give you exact instructions how to do it.)
Wait - there's still more because you'll also get............
3 FREE Bonuses For Ordering Today

Since I know it's 100% to your benefit to act right away, I want to sweeten the cauldron and give you every possible reason to say YES today! If you respond immediately, you also receive the following:
Bonus #1
SECRET RESOURCE - I keep a special folder in my favorites for storing Witchcraft websites that I come across on the Internet. These are not your usual rubbish websites but secret sites that operate quietly, serving their visitors in all areas of the craft.
Bonus #2
WITCHCRAFT SECRETS Inner Circle Underground Spell of The Week - Every week for the next 4 weeks I will personally send you a VERY powerful spell of the week. I must ask you to keep these to yourself and NEVER share them. If at anytime during the four weeks you feel that the spells are to powerful for you to use, or you feel that you can't handle the responsibility of owning these spells, then simply cancel by direct email and you will no longer receive them. If however you are one of the chosen few who recognises the power and ability in these spells and wish to continue receiving them then you need do nothing; you will continue to receive the Inner Circle Underground Spell of The Week for the low monthly fee of just $7.95. URGENT: we are only accepting a limited number of people in the Inner Circle Underground Spell of The Week and then we will close the doors completely.
Bonus #3
UPDATES - As this resource continues to grow we'll be adding updates to it and for the next 2 years you'll receive free updates as and when they are available.
Grab your copy for just $19.95
And if all of that wasn't enough, here's something else.......
You Can't Lose With Our 100%, Spellbinding, "Better-Than-Risk-Free" Money Back Guarantee
I say "better-than-risk-free" because bonuses 1 & 3 are yours to keep even in the unlikely event you decide to return the Secrets of Witchcraft - 1001 Questions Answered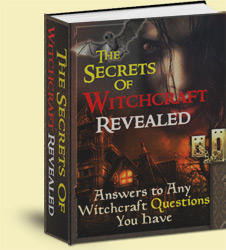 I know you'll find this resource absolutely indispensible for all your Witchcraft and Wicca questions--but I understand you still might be sceptical. That's why, I ask you to see for yourself and try everything entirely at my risk.
What I'm saying is, don't decide now if this product is for you. Just get it and try it out. I promise this information is unlike anything you'll find in those generic Witchcraft books.
However, if for any reason (or no reason at all) you're unhappy or dissatisfied with this information you can get every dime of your money back under our no-loopholes guarantee. No questions asked, no hard feelings and no hoops to jump through.
So you have nothing to lose and everything to gain.
Is that fair or what?
Go ahead and grab this invaluable resource that novice and experts turn to when they're baffled. Pretty soon your friends and fellow Witches will think you have special knowledge and start asking your advice!
Click the order button right now (even if it's 2:00 am in the morning).
Grab your copy for just $19.95
Sincerely,
Neil Stafford
Neil Stafford
The "Secrets of Witchcraft - 1001 Questions Answered"
P.S The Internet Introductory price of $19.95 is during our market test, After it's over the price will go up and you'll miss out on the chance to grab the "Secrets of Witchcraft" for the lowest price it will be offered for. Get the biggest savings on this resource right now plus the 3 extra bonuses.
P.P.S I can't gurantee that I'll continue to offer all of the bonuses above. As more copies of this fantastic secret resource sell I may want to limit the number of people who receive the valuable bonuses. To ensure you receive your secret resource, updates and new spells click the order button below to get your copy of The Secrets of Witchcraft today.
Grab your copy for just $19.95
If you need help please email support@secretsofwitchcraft.com